Buddy training is another amazing way for those with long term goals to get access to years of experience and support from a personal trainer.
Accessing me as your trainer one to one or one to two has the same level of service, support and motivation. you a just have access to all this great support at half the cost. Both you and your buddy will get the tailored support both in the gym at home.
Sessions are programmed to maximise your success and will focus on your individual needs. Sessions are engaging and training with a buddy supports motivation in and outside the gym as you become focused on each others goals.
Nothing beats meeting Chris in the gym knowing your session is going to be challenging, fun and you will leave feeling amazing about your achievements.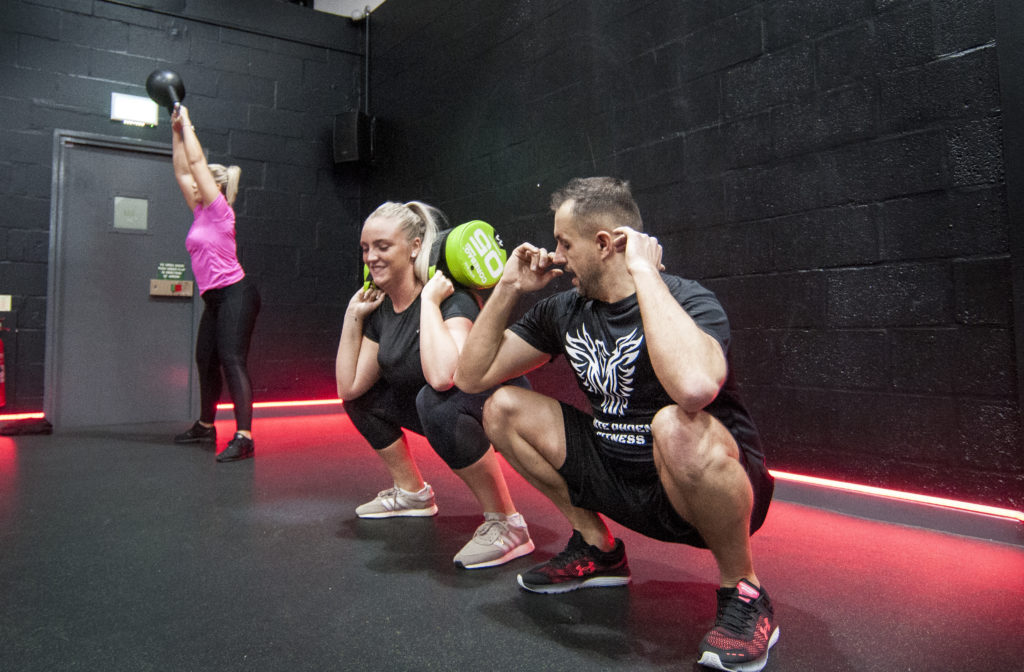 Measurements
From day one we will look at different ways to measure your progress. We will sit and discuss previous training you have been doing, review what nutrition plans you use, how you approach your nutrition, how your week looks and how you approach each day. Using a variety of progress pics, boditrax measurements and tools we will track your progress.
Sessions
Sessions will combine a mixture of circuit style training, independent training and 1:1 focused training. Sessions are combined with your goals in mind but also allow challenge and focus to become your motivation. Every session you will be able to talk through habits, challenges and where you are at in your own personal journey.
Tracking
Everything we do together or independently, we track using the app. Entering weight, fat percentages and many other statistics gives us a picture for what your body is doing and how it is adapting. We record progress photos, link to myfitnespal and other tracking devices, all this makes a positive impact on your journey. Understanding how different things impact your fitness means we get better long lasting results.
Nutrition
Food is a vital element of any fitness journey and this isn't about a diet or basic everyday food plans. We will work together step by step to make nutrition the centre of your routine. Tracking your meals in myfitnesspal helps keep you accountable and helps you understand what nutrition is about. we will talk about food, there is no negative just the positives. Nutrition is about choices and adjusting what you eat around the time you have. If you need more support then we will add more into your training programme to ensure you make progress.
Lifestyle
A key component to any fitness journey is to factor in your lifestyle. Training, nutrition and recovery should be based upon your lifestyle or the lifestyle you want to have. We are all busy people but fitness and personal time must be the centre, as this means you will perform at your best more and more effectively. We work to make training part of the daily routine, we work on nutrition to take into account work and play. The key to success is, honesty, tracking and balance. Together we will succeed.
Habits
Habits are a focus here at Inferno Fitness because we know they are a foundation to success. Every day life is filled with habits, from the moment you wake up your routine is based upon habits. Some habits are great and some habits could be better. It isn't about bad or good habits but making habits that help you succeed. Simple changes can have a massive impact upon your lifestyle and your fitness journey. It takes over 14 days to make a new habit become routine. Let's make that happen together.
Support
Support from day one, from the moment you have your consultation, I will be with you by phone, text, email and in app messaging. This support is there to ensure you make success. Face to face training sessions, follow up chats, emails, facebook group, in app messages and much more. Everything is about you. Your journey, your path. Just having that person to listen, advise and support is the best thing in the world and the best way to make the progress you want.
Recipes
Even more than just your training plan, nutrition or habits. Challenging you every step of the way. I provide recipes and other ideas about food to make sure you stay on track. On top of the basic packages that are on offer there are free recipes, knowledge bombs, ideas and more. To further make your journey a success there are additional add ons to your package. Full exciting recipes with macros and calories included in downloadable and hardcopies. Visit the the shop and download page.
Buddy Packages
Personal Training is affordable for all and is about budgeting for your health and long term goals. You will find that with changes you make you'll have more money to invest in yourself. With all buddy packages you both get access to your own personalised app, individual focus on your own nutrition and all the support that comes with 1:1 the only difference is you share the cost and share the time. 1:2 personal training sessions.
Personalised Training App
With any bespoke personal training package, you will have access to the Inferno Fitness Academy App. The app allows you to take your training, nutrition and support anywhere. The app includes: