Learn what is within you and what is within reach of you…
Inferno Fitness Academy is based upon years of experience trying nutrition plans, following routines and seeing what works. Fitness and Nutrition are so unique to the individual that many plans that are out there are basic and do not allow you to fully maximise your body type, lifestyle or suitable training for your personal goals.
Here at Inferno Fitness I am focused on you as a person from the moment we start talking about your fitness, to the weekly shopping, working day and your social life. I have have a number of options available to you depending on your fitness goals, your time and your budget. It is about what will be the best for you.
What I will say is flexibility in using my materials and adapting what I provide to suit you is the best advice I can give. I am here at the end of the phone for the accountability, training, motivation and advice 24/7. (I do take the occasional holiday.)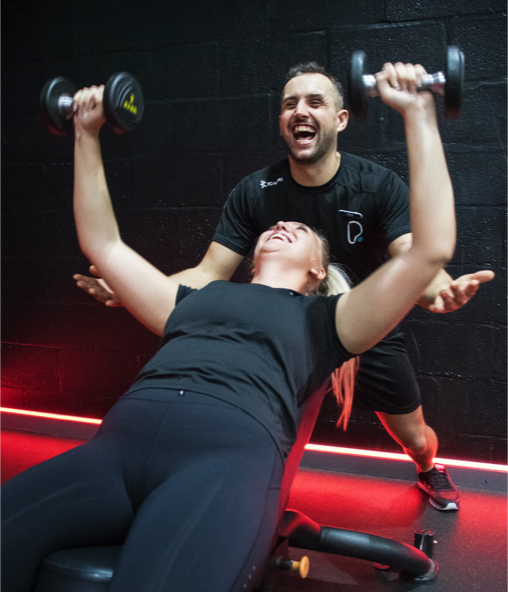 1:1 Gym Training
Joining the gym was the first step towards a better and healthier you. Now you are ready to train, you have the trainers, the gym kit and the gym. You have had your induction or used the app to get you started.
Now you have a goal, you are working towards but you are not getting the results you want.
A gym focused personal training programme is probably the next step to achieve your long term goals.
" I lacked motivation, training was not consistent and I would skip sessions as I wasn't accountable. I signed up for a PT session with Chris and I am now in my 6th month of training. The results are amazing, I attend the gym 5 times a week, I eat better and I'm more confident with myself."
Sarah, Salford Quays.
Online Training
Not getting to the gym as much as you liked, find life too busy at times or you find that training in the gym too much. Online training could be the best step to meet your long term fitness goals.
Weekly check in with Chris, programmed exercise with the gym equipment you have and even face to face training over the internet to fit into your busy schedule.
Online training is flexible, functional and worth every penny you invest.
Workouts can take place at home, outdoors or you can use the local gym following the programming, nutrition guidance, meal plans and ongoing support.
Buddy Training
Regular gym goer and you go with a friend. You spend time talking, trying to workout and you both not getting as far towards your goals as you would like.
You have probably looked at the Personal Trainers online or in the gym. Then came to the conclusion you cannot afford a Personal Trainer.
Well you are mistaken and buddy training may be for you. Splitting the cost of a two session package gets you two hours a week, access to the app and all the help you require from Chris.
"Buddy training has been the best decision we made since joining the gym, we work out together following plans prescribed by Chris and then the sessions with Chris are motivated, challenging and getting us the results we want."
Mia and Jade, Salford.
Group Training
Another level of training that motivates, pushes towards your goals and helps you become more confident.
Group training is having access to a Personal Trainer in a small group up to 8 people where you share similar long term goals.
Boot camp, HIIT and circuit style training which is fun, engaging and intense.
This is an affordable option of Personal Training as you get all the support of Chris, access to the app, your own unique follow up workouts or small group workouts you can complete in the gym.
More than a class, more focus on technique, intensity and direction to achieve a long term goal.